Mondi Rotatrim Copy Paper and Typek A4 copy paper 80gsm - East London
Tuesday, 8 March 2016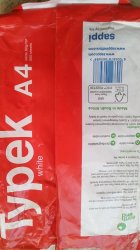 Item details
City:
East London, Eastern Cape
Contacts

howard
Item description
Mondi Rotatrim Copy Paper and Typek A4 copy paper 80gsm

Detail of Copy Paper A4 80GSM 102-104%:
- Brand: Mondi Rotatrim and Typek (Original)
- Size: A4 (210mm x 297mm)
- Substance: 80gsm
- Brightness: 102-104% above
- Color: white
- Grade: All purpose Premium Paper
- Sheet in Ream: 500
- Roughness: 140ml/Min
- Roughness: 140ml/Min
- Thickness: 110um
- Opacity: 95%
- Ream box: 5 Ream
- Quality: Very High

Key Performance
- No jam in Photocopy machines
- No double feed
- Stay flat after copying (even in laser)
- Leave no dust in the copy machine
- White and clean, Smooth and bulky
- No see through print in both side
- Best result in Photocopy machines, Laser printers, Inkjet printer, Fax, etc.

EXCELLENT PERFORMANCE DUE TO THE FOLLOWING CHARACTERISTICS:
-Moisture Control - Makes the sheets stay flat in the copier and enhances run ability
-Low Dust Content - Minimizing Your copier running cost.
-Good Opacity - Double sided copying of the best quality
-Smoothness _ Improving Printing Quality.
-Bulky Sheet - Enhancing smooth run ability


Best For Use with your
Photocopier
Laser Printer
Fax Machine
Ink-jet
Copier
2 side copying


PACKING DETAILS

500 SHEETS PER REAM.
5 REAMS PER BOX.