Siberian husky puppies - East London
Wednesday, 10 October 2018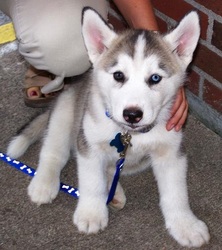 Item details
City:
East London, Eastern Cape
Contacts

garcia
Item description
We have 7 beautiful husky pups for sale, 3 Boys ( 2 Left) and 4 Girls (2 Left).They are beautiful examples of the breed with special colours. All are ready for their new homes and have blue eyes . Both mum and dad are our family pets and can be seen with pups on any visit. Pups are ready to leave now and will leave with first injections (2nd injections paid for just need to go back to the vets) wormed and flea up to date, micro chipped from the vet as part of the pack.
They will also come with Dog Lover Registration Certificates and 3 Generation family tree papers; we will also be including a puppy pack for all our puppies.
The pack will include:
"    1x 2kg Purina Beta puppy biscuits
"    2x Metal food bowls
"    Bag of Puppy Training pads
"    Leaflets and information packs
"    Receipts
They will also come with the schedule they have been on here and advice and guidance of how to change their routine, and any training tips we have worked with over the years of owning huskies (Its quiet a read almost 52 pages of stuff including training we have done when completing our dog training and animal psychology courses). And a lifetime support system should you ever need help, advice, training or even boarding, puppies and their new family will always remain a member of our pack. We are looking for forever homes for these pups so knowledge of this breed is essential, far too many huskies are bought as they are cute as puppies, undeniable but as adults they are a very stubborn and a hard breed if you don't know how to be a leader, so please do your research before taking on these pups they are our family and we want the best for them.