Bosch PCM 1800 watt Dual Bevel Sliding Mitre Saw - East London
Friday, 16 September 2016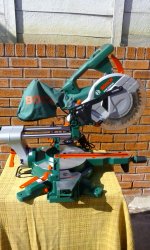 Item details
City:
East London, Eastern Cape
Contacts

William

0711697028
Item description
This saw is 5 Months old and has been used 6 times on small projects like wooden frames for mirrors. It is practically brand new. The reason for selling it is to buy a Metal Detector or to swop for one in the same condition the saw is in. This saw is ideal for the on the go handyman or DIY man.It also has a laser guide for accurate cutting. Once in a life time opportunity, don't miss this you won't get one in this condition for this price unless you buy it brand new which will obviously cost more.Price is also negotiable.The total weight of the machine is 21 Kg
The site only allows me to send 1 pic, I'm able to email more if requested.